Here we continue to explore Turner's Between Lucerne and Thun sketchbook. Following an excursion along the lake front from the Swan Hotel, we now turn on page 4 to begin a traverse of the Museggmauer, the old city walls of Lucerne, punctuated at intervals by a series of nine distinctive towers. The city of Lucerne has a guide to the wall here.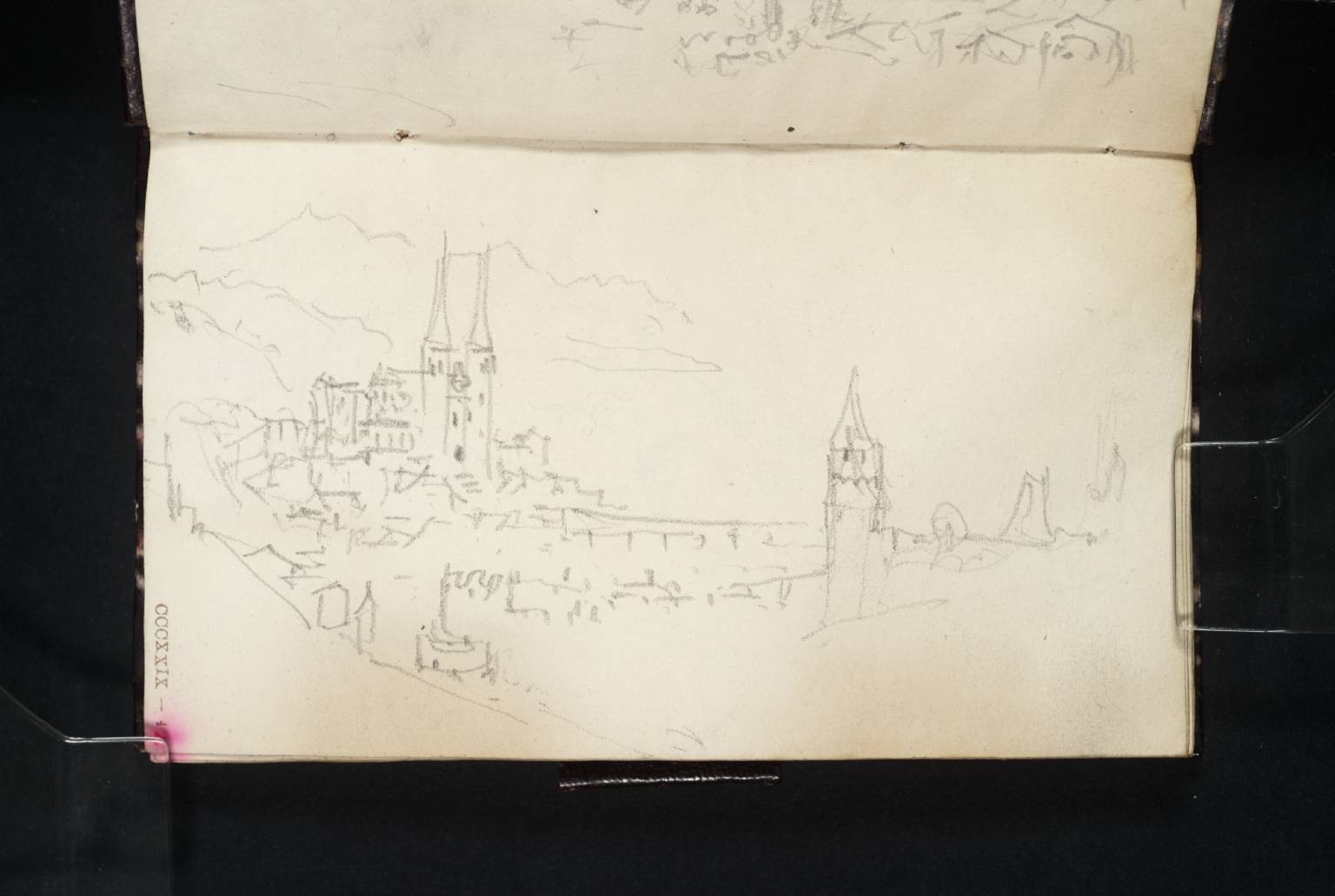 The first sketch in the sequence (f.4) records the view of the Hofkirche from above the Dachliturm. The twin spires of the church reach towards the distant skyline of Mont Rigi, whilst the Hofbrucke, the fourteenth-century covered bridge which ran along the lake front, stretches across the middle distance, and the view is closed at the right by the Lederturm.
[On a desktop, right click image for option to open full-size in new tab. Close tab to return to this page.]
This might be the final record of this particular assemblage of landmarks, for most of the Hofbrucke was demolished in 1846, and the remainder followed in 1852, and the Lederturm was demolished in 1848.
The site is generally recognisable today. My photograph was taken from the next tower along the wall, the Allwindenturm, although Tuner's exact viewpoint appears to have been a short distant left, where today a rather forbiddingly private block of apartments now stands.
Turner was renowned for his ability to recall details of the places he visited. This sketch offers some illustration of how he structured his memory. The Lederturm is a constant feature in most of the previous sequence of sketches. Here it serves to connect with the preceding views, and to triangulate his position in relation to the others. The present sketch also relates directly to the previously-made sketch on the opposite page (3a). There we can see the Dachliturm, just to the right of centre, the lowest of the towers of the Musegg wall. Turner's viewpoint in the sketch on f.4 is some way above and right, i.e. in the space between the Dachliturm and the Hofkirche. In the sketch on 3a Turner marks the spot with a tree. Assimilating the two sketches is sufficient for someone who has been there, not just to recall the scenery, but also the sensations of movement and the tread of the feet between the two viewpoints; indeed, to populate the pictorial space with the fully embodied character of traversing the real.
Next: continuing along the Museggmauer