Here we continue to explore Turner's Between Lucerne and Thun sketchbook, tracing a route from the Hofkirche to above the Museggmauer, culminating in a panoramic view over the town to the lake and distant mountains.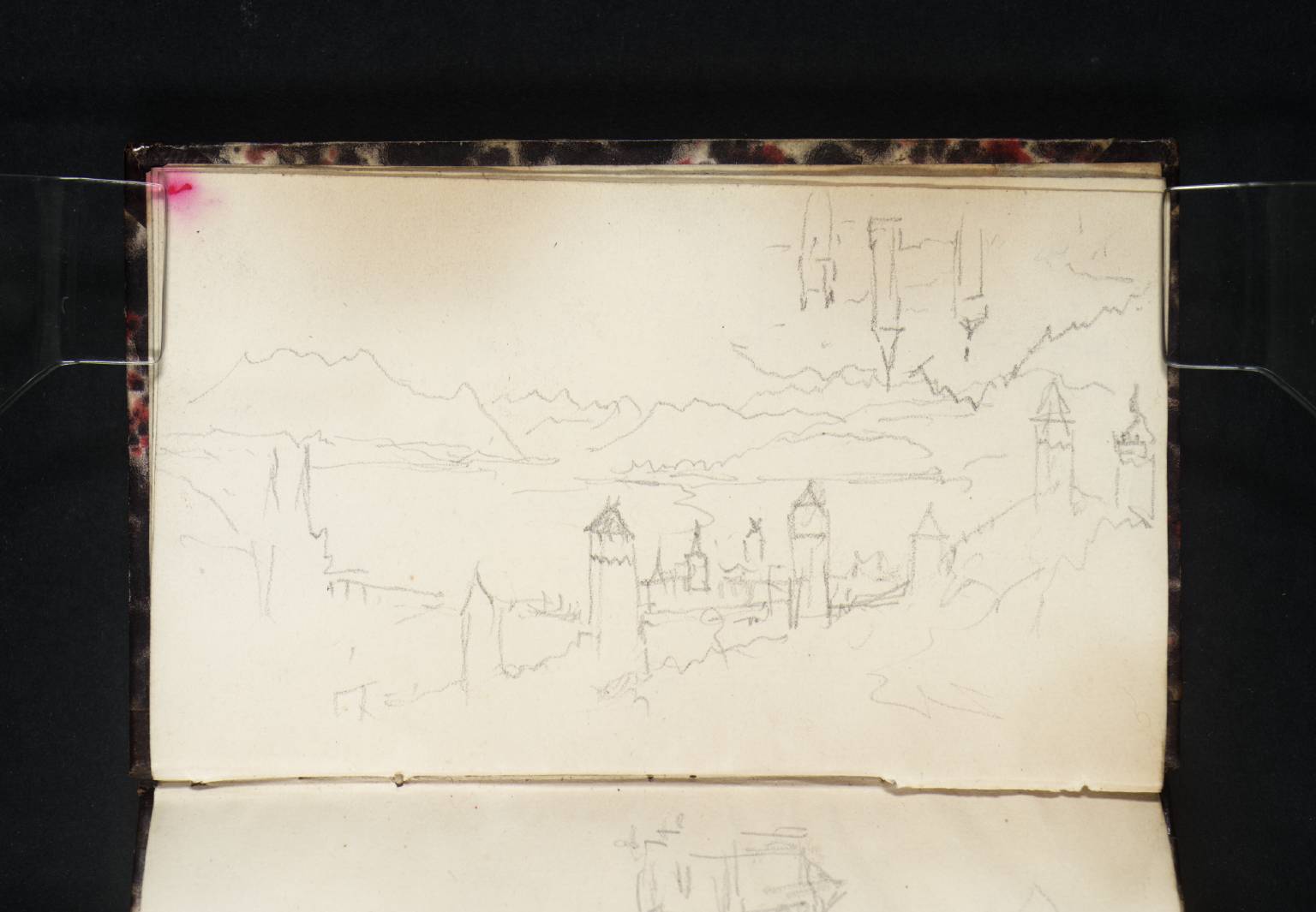 In the fourth sketch of this sequence Turner found a vantage point up hill from the Allwindenturm where he could take in just about every significant landmark of the city and its lake. We have the twin spires of the Hofkirche to the left, pointing upwards to the summit of Mon Rigi, then the full array of the towers of the Musegg wall, starting from the Dachliturm and proceeding through the Allwindenturm (centre) to the Pulverturm, Schirmerturm, Zytturm, Huyturm, with, beyond, the hills around the south end of the lake and the Burgenstock, and then continued to the right, with the page turned upside down, to take in the Luegisland, Mannli and Nolli Towers set against a background of Mont Pilatus. The composition also manages to include his starting point for this excursion, the towers and quay around the Swan Hotel, here glimpsed between the Allwinden and Pulver towers.
[On a desktop, right click image for option to open full-size in new tab. Close tab to return to this page.]
Residential development on the slopes above the wall makes it impossible to find the exact viewpoint today, but the city does maintain an open green space immediately north of the wall and it is possible to take a panorama of the towers from there.
Turner finished this series of sketches by finding a viewpoint of the south end of the lake framed by the Schirmer and Zyt Towers.
He turned the page upside down to take a quick detail, possibly of one of the towers, but added little to the sweeping panorama on f.5a opposite, and must have known that he had absolutely as much of Lucerne as he could possibly fit into one view.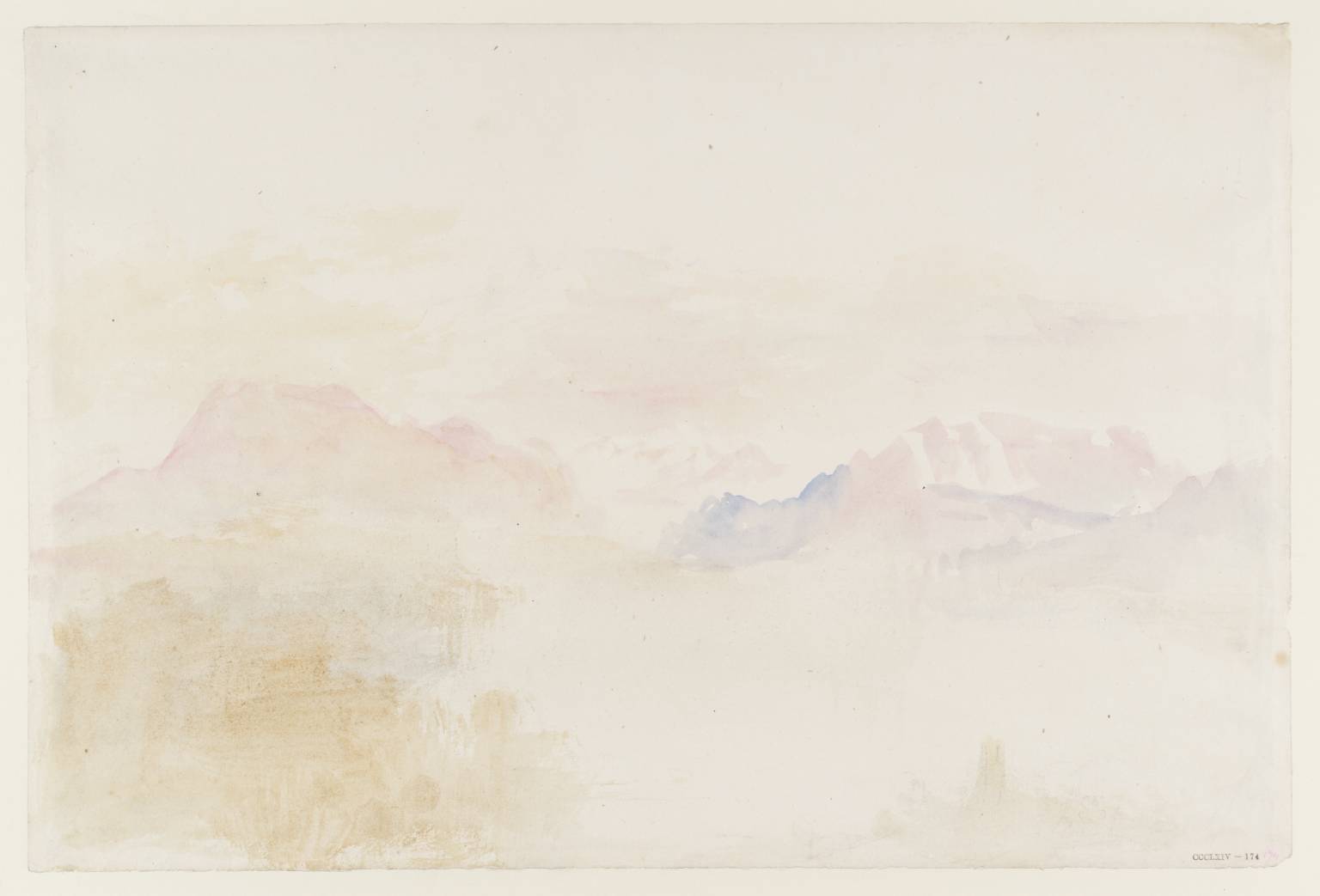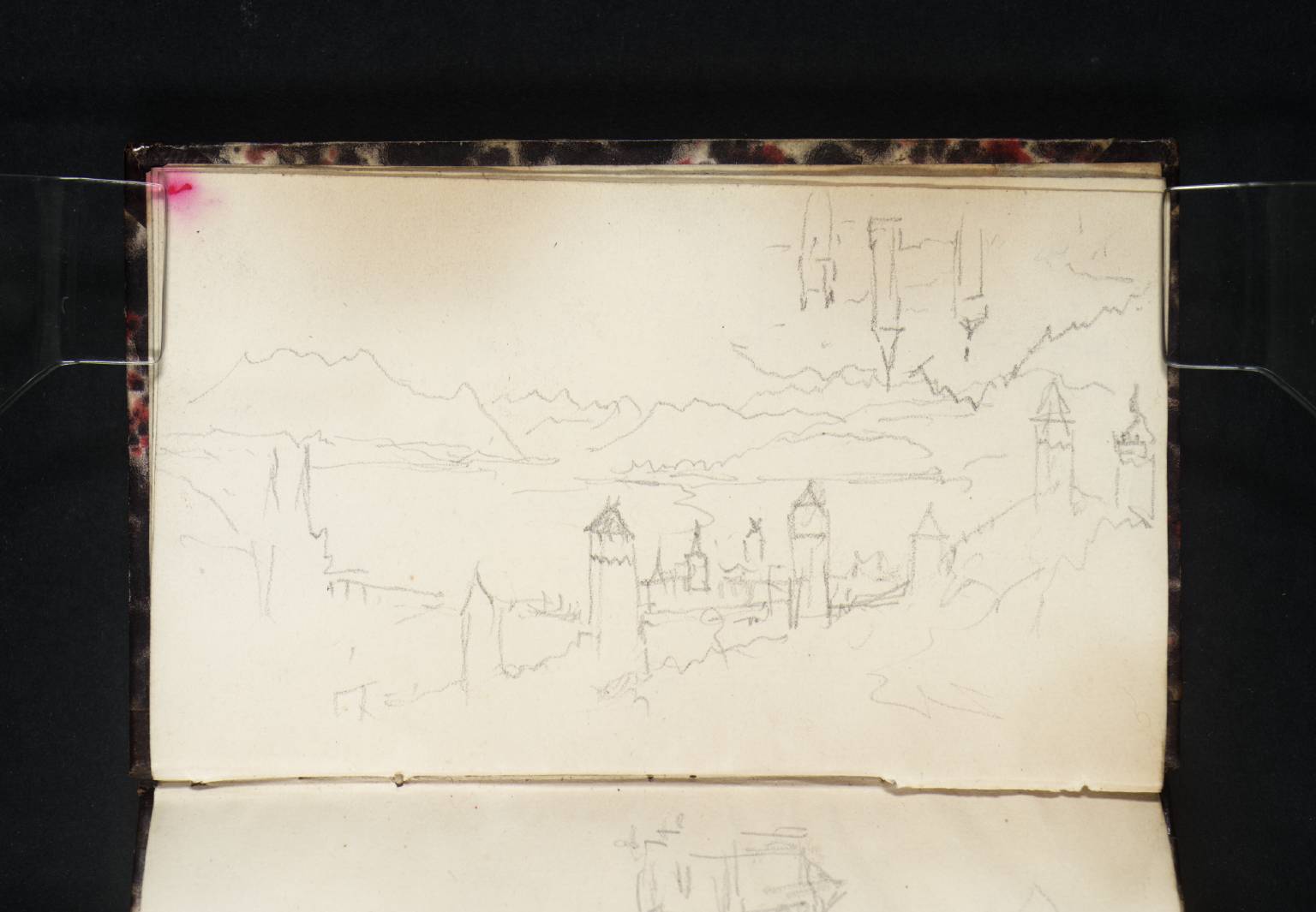 He appears to have been so satisfied with his material that he planned to make a finished watercolour from it. A colour study in the Turner Bequest at the Tate (TB CCCLXIV 174) shows that he began work with study of red light on the mountains cast by the sun setting behind our right shoulder. And what a subject this would have been. How frustrating that he does not seem to have found the opportunity to carry it into effect.
Next: Going the extra mile