Here we continue to explore Turner's Between Lucerne and Thun sketchbook. Having completed in the previous pages a survey of the lake shore and town walls, Turner finally sought an overview of Lucerne's situation in some distant views from the west.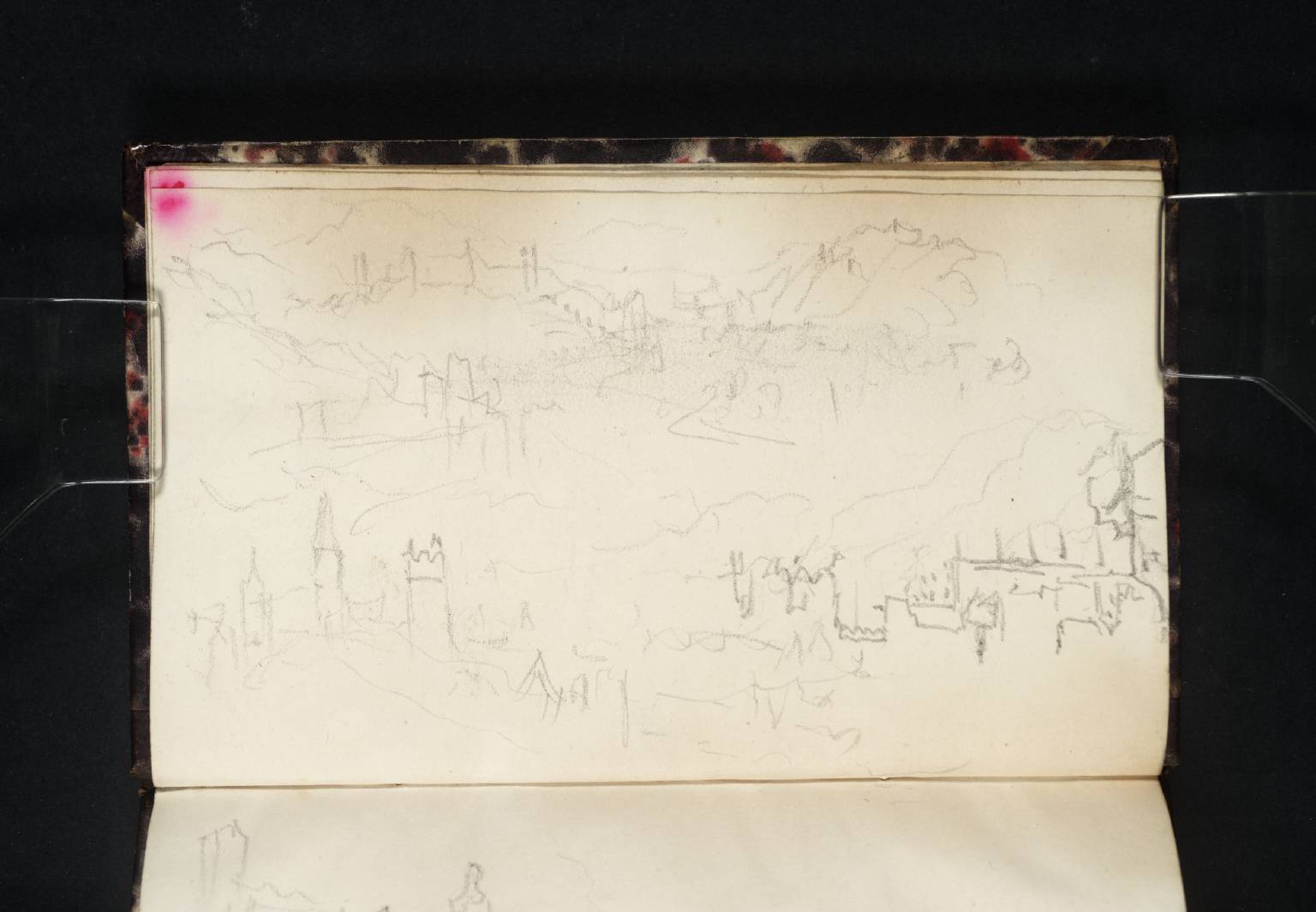 Turner was always prepared to go the extra mile to get the best sketches. Here, literally so, as he perfected his understanding of the layout of Lucerne with a walk down the left bank of the river Reuss. His first sketch, in the lower register on f.6a, records the view looking across the river to the west end of the Museggmauer and upstream to the lake and distant mountains. On the ground now, the viewpoint is completely swamped by road and railway, but is roughly where the E35 motorway emerges from its tunnel to cross the river.
[On a desktop, right click image for option to open full-size in new tab. Close tab to return to this page.]
The second sketch, in the upper register, records the view from about half a mile further downstream, close to where the river swings to the north, giving his most distant view of the city, with the whole line of the Museggmauer profiled against the Rigi, and the Gutschwald above the river to the right. The viewpoint of the sketch is also comprehensively built over, but glimpses of Turner's material might possibly still be obtained from the slopes of the Zimmerweggwald rising above.
Part of the first sketch is overdrawn at the right by what appears to be the continuation of a sketch from another page, but I cannot certainly relate it to that on the opposite page (f.7), which would be the most likely relation.
Before we leave this page it is worth noting that Turner sketched similar views to these in a different sketchbook, Lucerne and Berne.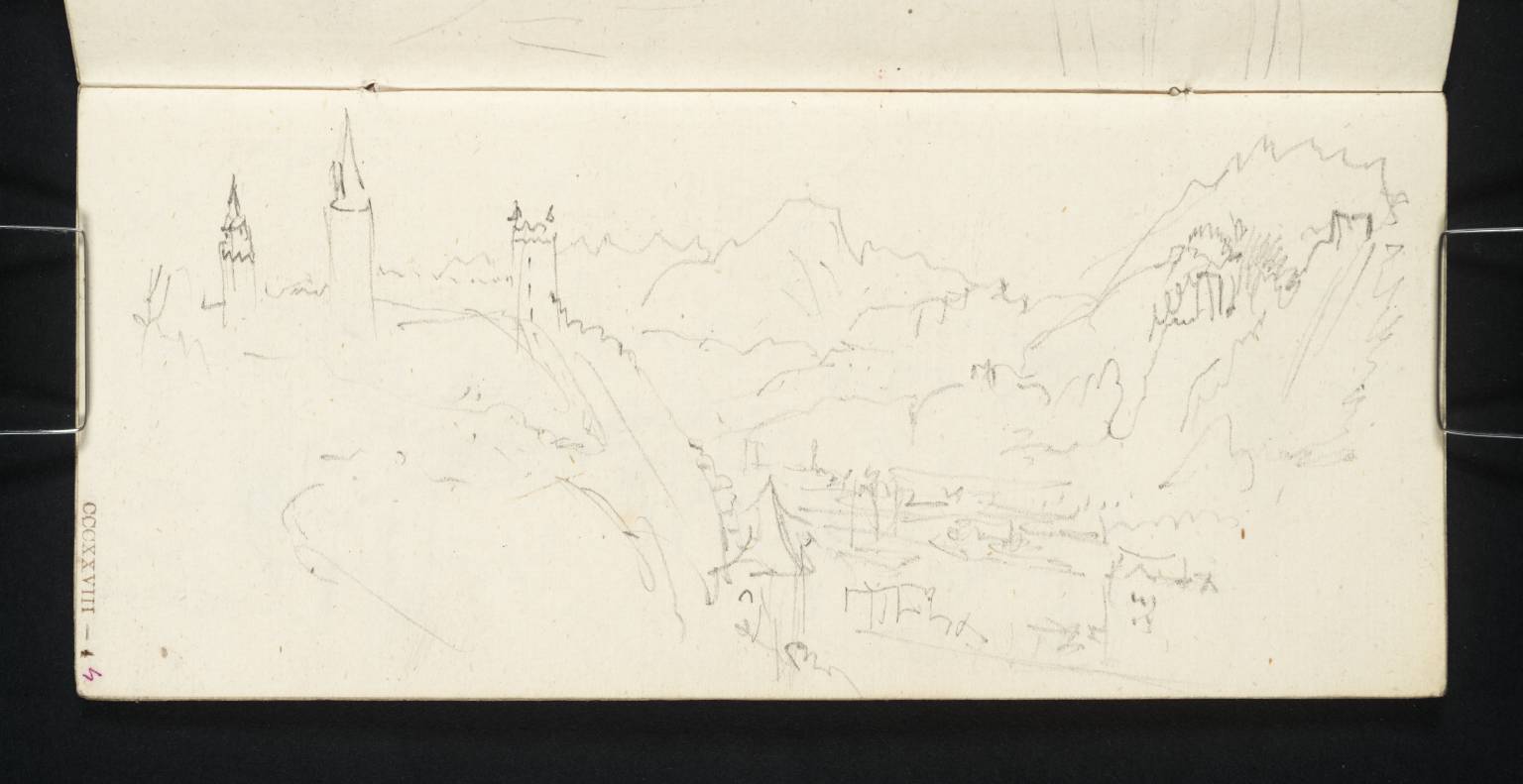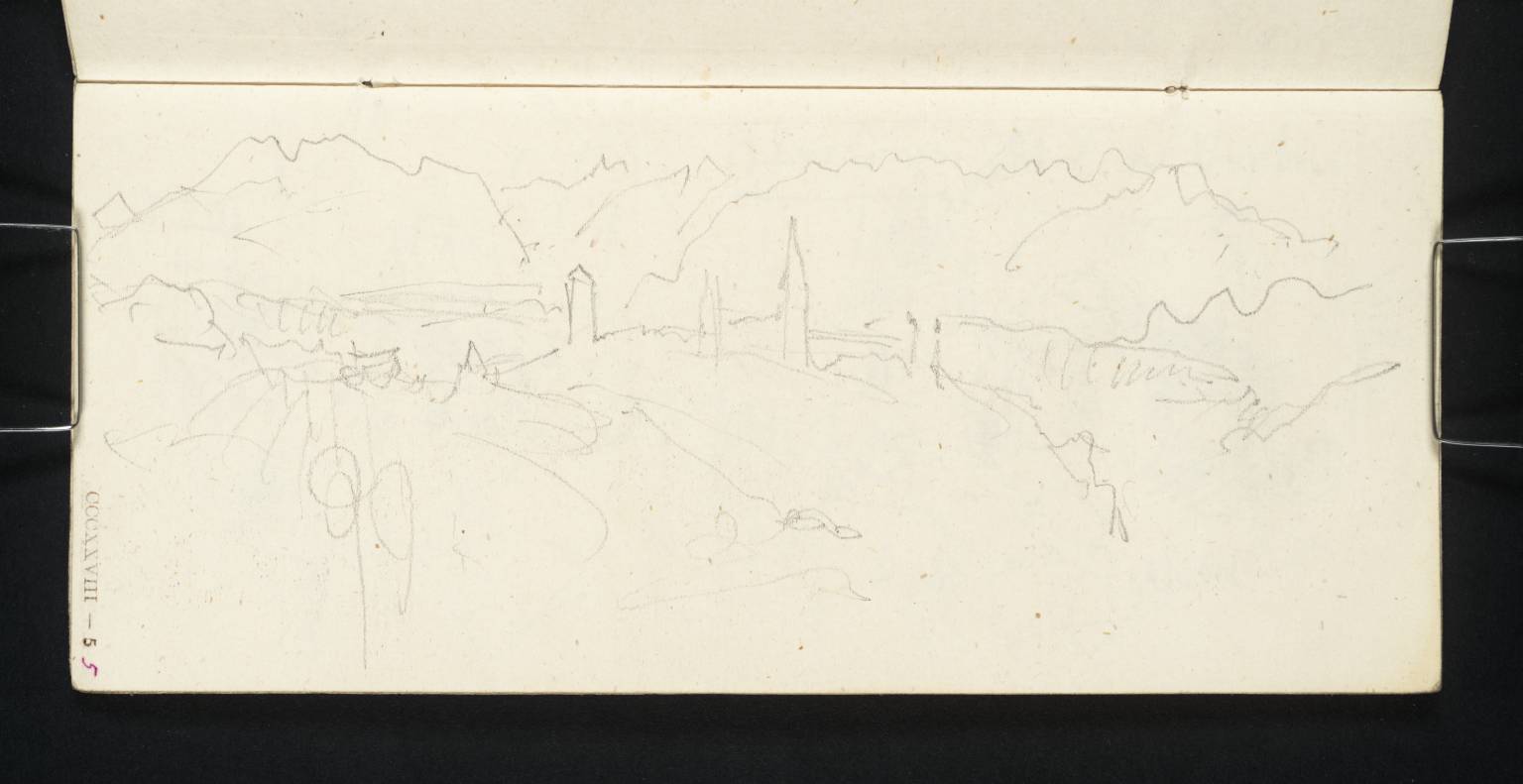 These are distinct from the sketches in the Between Lucerne and Thun sketchbook, for they are taken from the right bank of the Reuss. There are sketches of Lucerne scattered across at least four sketchbooks from the 1840s, but the chronology of these is far from properly understood. I would hazard from these two sketchbooks that they belong to quite separate visits. One might also say, especially on the basis of the sketch on page 4 above from the Lucerne and Berne sketchbook, that Turner appears to have been happy that he had found something worthwhile of this aspect. There is a sense of discovery occurring. The quick sketches here in the Between Lucerne and Thun sketchbook suggest that he was just rounding out a story that he already had under wraps.
Next: Back to the beginning.